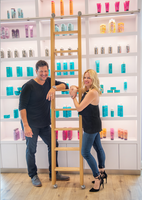 Hello!
Welcome to Andreas Hogue Salon and Andreas Hogue Gifts. This year, we are celebrating twelve years--with 2.5 locations--on Chicago's North Shore where we bring the very best in haircare, products and beauty gifts to our guests.
As the most award-winning salon on the North Shore, our 33 stylists have truly earned the title "Best of Chicago"--an award we have been given for the past 8 years in a row!
We are thrilled to share our salons and our boutique with you, wherever you are! Thank you for visiting.
Ashley and Andreas
Location
Locations
Willow Festival Shopping Center
840 Willow Rd, Suite K
Northbrook, IL 60062
847.272.1616
Mellody Farm Shopping Center
901 N Milwaukee Ave, Unit 650
Vernon Hills, IL 60061
224.206.8424